Also in Hawaii
September 3rd, 2011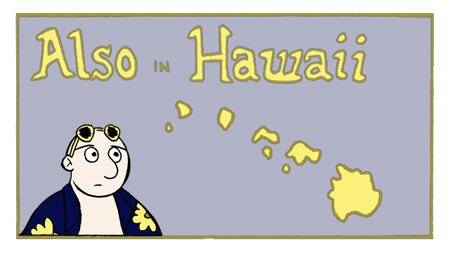 The SEVENTH book in the Bret Blackberg and Fifty State Tour collection is complete! For those not in the know, each chapter of this exercise/marathon is being completed as a 24 Hour Comic. Each state will get its own chapter, which means the final product will be 1200 pages of adventure, romance, betrayal, and beer. Unfortunately, I failed to post the Hawaii chapter earlier this week, as I had some other priorities. Anyhow, I once again completed it around 3:30 AM which seems to be the norm now. I could have finished early, but I didn't, because I ended up playing with my cat for about 45 minutes (she is soooo cute sometimes!)
To begin, I started the day at the Big Time Attic studio on Saturday, June 11th around 10 AM along with proprietor Kevin Cannon. Next Ryan Dow, the aforementioned Danno Klonowski, Lupi Miguinti, and Britt Hammerberg all showed up.
Kevin had a party that he had to run to, so around 7 PM I moved the lonely party (it was just me) to my messy home (too much construction going on to invite anyone over without being embarrassed).
Of course, some tweeting/Facebooking was going on. You can search on Twitter for the hashtag #24×50 to see what we had to say.
The next chapter will be entitled "Something in Oregon." I am planning on completing it during the 24 Hour Comic Day event in Minneapolis at the Minnesota Center for Book Arts. Want more details? Go here.
Of course, this event will be competing with Sarah Morean's housewarming party, which I am really bummed about, because Sarah is AWESOME and I really want to go! Sorry Sarah, I gotsta stick to my schedule. Depending on when I finish, I might be able to stop by. Are you going to be partying until 4 AM?
Meanwhile, I am still trying to finish my other book, "Swerved," formerly "Hijinks," in time for MIX. It has been a process that has taken WAAAY too long.
As always you can purchase my books at my Big Cartel shop. Which is located .
ANYWAY, I think you should take the time to catch up on the Blackberg story please purchase the first six stories (and subsequently help me out with my home remodel) .
OR, you can read them for free at the following links:
Somewhere in Montana
Meanwhile in Wyoming
Elsewhere in Utah
Subsequently in Idaho
Capriciously in Washington
Somehow in Alaska
Then click on the graphic all the way at the top to read Also in Hawaii.