St. Paul Cartoonist Conspiracy Jams - June and July 2008
Wednesday, July 23rd, 2008
For those who are "Not in the Know" every third Thursday of the month, a group of cartoonist descend upon Cosmic's Coffee Shoppe in St. Paul, Minnesota to concoct a jam comic*. The staff at Cosmic's have been gracious hosts despite the "uneasy tension" between the cartoonists, gamers**, and LARPers***. This last Thursday we said farewell to Kevin McCarthy; one of the three "founders" of the St. Paul cell. He is moving to Milwaukee where he will motivate, perhaps through violence, the Cream City Cell**** to post their jams.
I've posted our last two jam comics below. You can click on the images below, which will link you to the PDFs directly, OR you can check out Cartoonist Conspiracy Dot Com and find the jams there. Want to start up your own cell, it's easy! Just follow this link: Start a Conspiracy in Your Community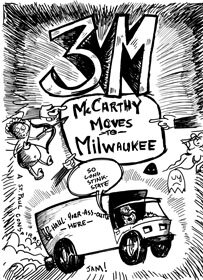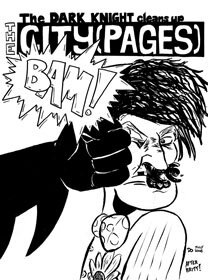 Please Note:
* jam comic - a collaborative effort to create a comic in a defined, usually short, amount of time, with few formal regulations.
** gamers in this instance refers to those generally playing World of Warcraft while we sit at the coffee shop and draw.
*** LARPers - Live Action Role Players - a group of individuals that attempt the craft of socializing by enacting various scenes and, sometimes, dressing up as characters found within a role playing game; in this instance it refers to people who think they are vampires.
**** Cream City Cell - also known as the Milwaukee Cell - who belongs to this cell? Does it even exist, or is it a myth? I've never seen anything posted on the Cartoonist Conspiracy site other than a cute little community link in the right sidebar. Please correct me if I am wrong.